About Us
The ultimate guide!
Explore your city welcomes you all to India's first, largest & fastest growing online Business to Business Directory that brings the world's best solution of trade.
When You Are Doing Business Online, People Cannot See You Or Your Company. They Can Only Judge You By Your Web Site Or Business Profile Page. That's Way Professional Page Design Is So Important.
---

THE GOAL:
Explore your city is India's first-ever searchable Business 2 business or Business 2 Consumer marketplace and directory that connects manufacturers, exporters, suppliers, and buyers to generate value from trade opportunities……
---
THE VISION:
Explore your city is the New Revolution in World Wide Web. The company's motto is bringing information about the smallest business to people (buyers)…….
---
THE CONCEPT:
The concept is very clear people who never afford online Promotions & building Expensive websites for their businesses. Or Email Marketing etc. So our vision is to give them24/7 online Global Exposure to their business or services.
---

THE FUTURE:
Potential buyers' instant inquiries! All this is what with Explore Your City B2B. Explore your city.co.in is the answer to all, which continues to serve you with such a common B2B platform where numerous manufacturers, wholesale suppliers, importers, exporters, service providers, etc. have registered in. A complete solution provider to all your business queries, Explore your city is the destination where business enterprises have benefited the much-needed promotion and exposure in the current scenario of the global market. Explore your city has become a strong source of reliability because of the use of peerless technology and innovative measures. This online City directory is the home of numerous products and businesses across the globe and hence it serves as the ideal destination for everyone who wants to witness a bloom in the global trade scenario.
---
Why Explore your City?
There is no reason to believe in us unless you work with us. We have a list of customers who will let you do perform with us. But we want you to give us an opportunity without understanding our customers we make sure you offer our best. Because herein EXPLORE YOUR CITY we try to cure all customers equally.
Limitless profits come to you at reasonable prices.
So what are you waiting for?
---
Go throw to our Paid Membership
Make your business livelier and expand it to new dimensions with our Paid Membership. Our Paid Membership enables you to reach out to new business opportunities and expose yourself to potential global clients and customers to enhance your business to new heights.
We have business classified page offerings into three divisions-Silver, Gold, and Platinum. We give you that opportunity as per your budget and requirements.
---
We also have a Responsive Mobile Website
Complete Mobile Browser Compatibility: We ensure that our website is easy to access on all handsets.
User Friendly & optimized graphics to make sure that the browser speedily downloads the website. We also assure minimum scrolls and less typing. The website layout is mobile compatible Website is designed in tune with the latest web standards User-friendliness is the main focus No audio or visual disturbances while accessing through a mobile set.
---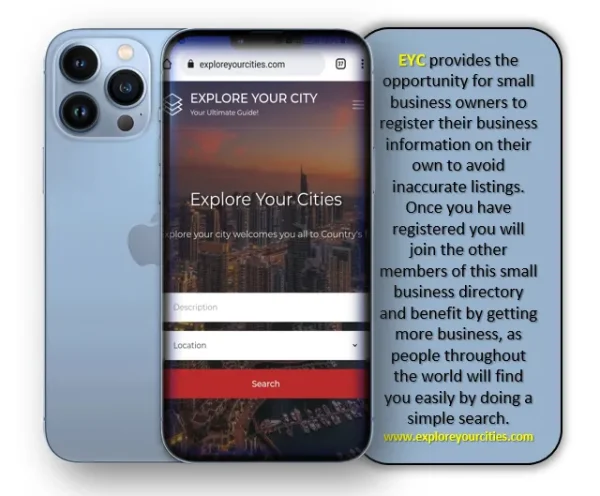 EXPLORE YOUR CITY BUSINESS GUIDE– www.citiez.in
EXPLORE YOUR CITY Team Awaits your Business to be given Global Exposure!
Socialize with us. We always love hearing from our clients.
Share stories and exchange ideas on business success. Facebook, Twitter & LinkedIn, etc.