Description
Rohit Arts Pen
Proprietor Mr. Sanjay Rajaram Shinde
Rohit arts is one of the best Shree Ganesh (murti) statues, We also provide a range of beautiful art of the Durgamata And Vishwakarma Statues manufacturers in the Raigad region. In 1998 we started this business we supply this idol statue in all of  Pen India last 25 years from Pen Raigad Maharashtra.
Ganesh Chaturthi, also called Vinayaka Chavithi, is an auspicious Hindu festival that is celebrated for 10 days every year. The festival is celebrated in the Bhadra month as per the Hindu calendar which generally falls from mid-August to September. It marks the birthday of the beloved elephant-headed Lord Ganesha.
This festival is celebrated with great devotion and joy by Hindus throughout the world. In India, it is majorly celebrated in states including Maharashtra, Gujarat, Goa, Madhya Pradesh, Karnataka, and Telangana.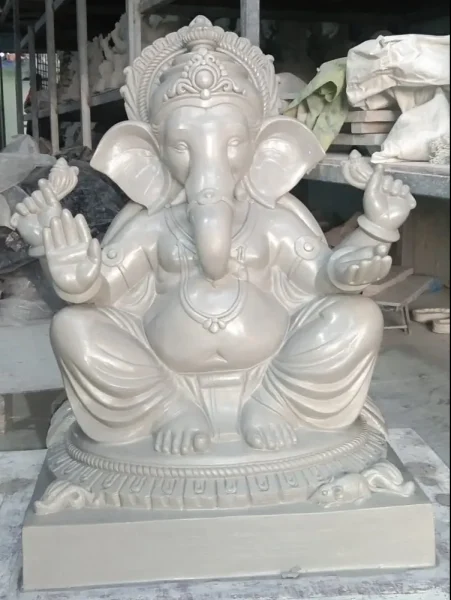 "Ganpati Bappa Morya!"
Made from Shaadu soil, these Ganesh idols from Pen (Near Panvel), Maharashtra are famous all over the world for their expressions and eco-friendliness. To book, Call us.
This year, bring a cheer of happiness at home with Lord Ganesha! Ganeshotav is coming up!
Apt, decor for your idols is also available here! Again, of course from Pen.
Idols are available in limited stock. So, Book yours asap.
The Idols are kept in a clean sanitised environment. Based on the laws this year, Visarjan in public is normal now so, you can definitely bring Lord Ganesha home.
Pen and Idol making
The pen is a small town between Mumbai and Pune in the Raigad district of Maharashtra, famous for making Ganesha idols, and having a history of over 100 years old. 1t started with the Freedom fighting movement of India when Ganesh Chaturthi was popularized and has carried on all these years, becoming an industry with exports all over India as well as to the US and the UK.
The people of Pen started making Ganesha idols when they became a public domain of worship in the 1890s. There are about 1.5 lakh idol-making factories in Pen taluka where more than 2 lakh people are employed around the year. The Ganesha idols were initially made out of clay, brought from Bhavnagar, and then transported to Mumbai to be sold at cheap prices. Slowly, Plaster of Paris started to be used and the real boom happened in the 1970s with the opening of the Thane creek and transportation made easier. The people of Pen make idols the whole year round, taking a break only during the Ganapati festival for 10 days.
Buy Eco-Friendly Book Online Ganesh Idol. Ganeshotsav (Ganesh Chaturthi) was around the corner, and the pace of activity at Pen's Kala Kendras and karkhanas (makeshift factories) was frenetic. Paint-spattered artists were engrossed with brushes and spray guns, some statuettes awaited the finishing touches for the eyes, and endless rows of grey and white idols were left to dry while those arranged on the shelves had been tagged with the buyer's name. Some bought kachcha (raw) idols to be painted later in desired colours while most carted away readymade statues. Members of Ganpati Mandal Samitis knocked on doors in search of 8 feet high Ganeshas. Retailers from Mumbai, Pune, and Kolhapur ticked away at checklists and furiously punched figures on their calculators.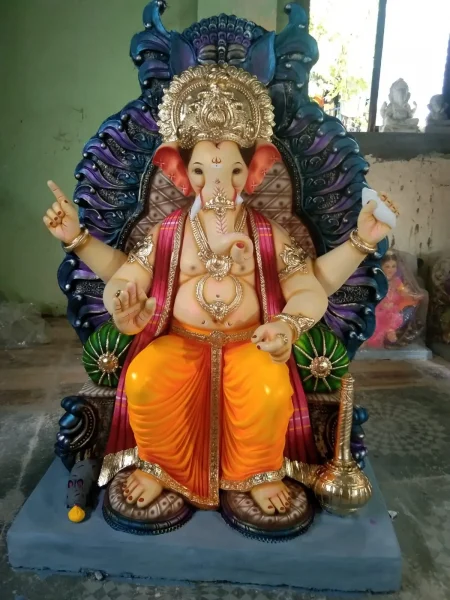 Digital India-X: Complete Digital Marketing Solutions – Domain + Hosting + Website + Email with Free Website Development, Directory Listing, SEO:  www.digitalindax.com
Startup India-X: Helping Businesses and companies Innovate and transform – Everything Your Business Needs In One Place: Company Registration, Startup Registration, All Annual Compliances Other Licenses and Certifications: www.startupindax.com
EXPLORE YOUR CITY BUSINESS GUIDE– www.citiez.in
EXPLORE YOUR CITY Team Awaits your Business to be given Global Exposure!
Socialize with us. We always love hearing from our clients.
Share stories and exchange ideas on business success. Facebook, Twitter & LinkedIn, etc.
Requirements
We Require
Workers
Ganpati materials Like POP and Colours etc,
Video
Location
Contact
Address

Khopoil Road, Rohit Kala Kendra, Pen Raigad 402 107
Office Details
Address

Borgaon Road, Datt Nagar Gate No.1, Pen Raigad Maharashtra