Description
Mhatre Sahil Optics Pen
Proprietor Mr. Kiran Chandrakant Mhatre
Sahil Optics is one of the best optics showrooms in the Pen Region. We provide all types of sunglasses in our Showroom with Contact Lance Clinic and Computerised Eye Testing in pen Raigad Maharashtra.
About Us
EMPOWERING YOUR VISION WITH THE RIGHT EYE CARE & EYE-WEAR – Mhatre Sahil Optics Pen
It was in the year 2001 when Kiran Mhatre laid the strong foundation of Sahil Optical. His honest ardor gave our brand its first store- Sahil Optical. Resting on the four pillars of perseverance, loyalty, grit, and relentlessness, the brand strived to foray forward. Needless to say, we have continued to evolve ever since remarkably. The optical industry in India had a gaping slot for a retail chain that could provide end-to-end solutions for vision challenges. To add to it, there has been a pressing market for quality and affordable eyewear. Sahil Optical not only fulfills the need of the market but also elevates to provide the most fashionable eyewear.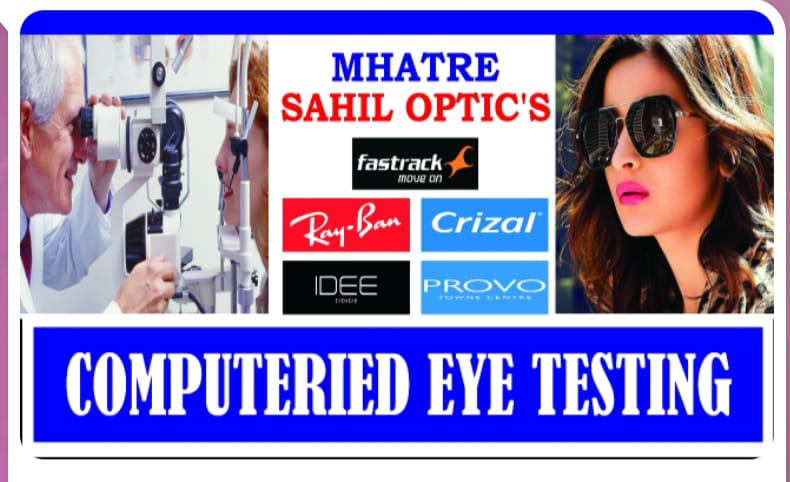 The third generation of Binanis effectively reigns over business affairs and it has also started to bring the fourth generation into its tutelage to instill the same principles that set Sahil Optical a class apart. Over and above, we take immense pride in introducing to you our inimitable task force that has been our strength. We have a team of qualified optometrists that are best at their jobs, dynamic executives that insist to serve, and skilled technicians that leave no stone unturned to bring to you unforgettable vision-care solutions and technologically advanced eyewear. Service and dedication fuel us and the rest, as they say, follows.
Mhatre Sahil Optics Pen – Best Optics In Pen Region
We offer best-in-class products whether it be stylish sunglasses to protect your eyes from the sun and look cool or it is prescription glasses & spectacles to give you a better vision without looking out of trend. Our spectacle frames are trendy following the latest cult and make you shine out of the rest. And if you don't want to carry a frame then you have the option to go frameless with our top-quality contact lenses. For every individual need, we have a tailor-made contact lens that best suits you and your personality.
Our products are from reputed brands like Ray-Ban, Fastrack, and Idee. image sunglasses, Provo &  many moreAnd our lens  Crizal, Hoya, Kodak, Prime, and Blue Ray Cut lenses are available with the quality and assurance of Sahil Opticals.
Mhatre Sahil Optics Pen
OUR MISSION
We are in the business of "Optical Retailing" where customers are our assets and employees are our strengths. To attain a global leadership position, we need to preserve our assets and keep enhancing our strengths by constantly providing them with a platform to enrich their experiences and enhance their leadership capabilities. We do not compromise on our core ethics and therefore we are able to give excellent value to our customers, employees, and all stakeholders.
Mhatre Sahil Optics Pen
OUR VISION
We aspire to achieve a global leadership position in providing 'Perfect Vision' to all eyes by building the largest optical retail network in India, delivering world-class service, and unforgettable eye care experiences to our patrons.
Digital India-X
: Complete Digital Marketing Solutions – Domain + Hosting + Website + Email with Free Website Development, 
Directory Listing
, SEO:  
www.digitalindax.com
Startup India-X
: Helping Businesses and companies Innovate and transform – Everything Your Business Needs In One Place: Company Registration, Startup Registration, All Annual Compliances Other Licenses and Certifications: 
www.startupindax.com
EXPLORE YOUR CITY BUSINESS GUIDE– 
www.citiez.in
EXPLORE YOUR CITY Team Awaits your Business to be given Global Exposure!
Socialize with us. We always love hearing from our clients.
Share stories and exchange ideas on business success. Facebook, Twitter & LinkedIn, etc.
Mhatre Sahil Optics Pen
Requirements
We Require
Receptionist,Salesmen
Location
Contact
Person

Kiran Chandrakant Mhatre

Phone 9822838898
Designation

Owner
Address

Pen Branch Raju Pote Marg, Near Old Mhatre Hospital, Pen - 402107
Office Details
Mobile 9881418180
Address Nagothane Branch - Nukkad Gali, Near Police Station, Nagothne - 402106
Sahil Mhatre 9822999869
One review on "Mhatre Sahil Optics Pen"