Description
The #1 SEO
Services Company
Digital INDIAx Creates Targeted SEO Strategies, Which Maximize Your Website's Potential Resulting In Maximum Online Exposure. We Drive Traffic And Customers To Your Site. We are an experienced and talented team of passionate consultants who live and breathe search engine marketing.
We have developed search strategies for leading brands to small and medium-sized businesses across many industries in India and worldwide.
Company Registration
(OPC) One Person Company, (LLP) Limited Liability Partnership, (Pvt. Ltd) Private Limited Company, All Annual Compliances other Licenses and Certifications like ISO/ GMP, etc.
Trade Mark, Patent, and Copyright
Startup INDIAx
Domain + Hosting + Website + Email with Free Website Development
Professional Page on Directory Listing, SEO, Security and Manage Backups, Keeping Rank on Google.
Digital INDIAx
Social Media Marketing
YouTube, Facebook, Instagram, Linked In, we heart it, And All Leading Social Media Platforms
Digital INDIAx
Are you looking at the following services?
Website Design – Start from 5000 INR
eCommerce Website Development – Start from 8000 INR
CRM, HRM, ERP portals – Start from 25000 INR
Email Hosting – Start from 500 INR / Year with 25 GB Storage
Hosting Service – Start from 3000 INR / Year
Social Media Posting – Start from 8000 INR / Month
Graphic Design Services – Start from 500 INR / Unit
UI Design – Start from 1000 / Unit
Digital Marketing – Start from 15000 INR / Month
Search engines are used by people when they have a query and are searching on the internet for the answer. Search engine algorithms are computer programs that look for clues to give searchers the exact results they are looking for. Search engines rely on algorithms to find web pages and decide which ones to rank for any given keyword. There are three steps to how search engines work: crawling, which is the discovery stage; indexing, which is the filing stage; and ranking, which is the retrieval stage.
Step 1: Crawling
The first step is crawling. Search engines send out web crawlers to find new pages and record information about them. We sometimes call these web crawlers 'spiders' or 'robots'. Their purpose is to discover new web pages that exist, and also to periodically check the content on pages they've previously visited to see whether they've changed or been updated.
Search engines crawl web pages by following links they've already discovered. So if you have a blog post and it's linked from your homepage, when a search engine crawls your homepage, it will then look for another link to follow and may follow the link to your new blog post.
Step 2: Indexing
The second step is indexing. Indexing is when a search engine decides whether or not it is going to use the content that it has crawled. If a crawled web page is deemed worthy by a search engine, it will be added to its index. This index is used at the final ranking stage. When a web page or piece of content is indexed, it is filed and stored in a database where it can later be retrieved. Most web pages that offer unique and valuable content are placed into the index. A web page might not be placed in the index if:
Its content is considered duplicate
Its content is considered low-value or spammy
It couldn't be crawled
The page or domain lacked inbound links
Step 3: Ranking
The third step is really the most important step, and that is ranking. Ranking can only happen after the crawling and indexing steps are complete. So once a search engine has crawled and indexed your site, your site can be ranked.
There are more than 200 ranking signals that search engines use to sort and rank content, and they all fit under the three pillars of SEO: technical optimization, on-page optimization, and off-page optimization. Some examples of signals that search engines use to rank web pages are:
Keyword presence in the title tag – Whether the keyword or a synonym was mentioned on the page and within the title tag
Loading speed of web page – Whether the web page loads quickly and is mobile-friendly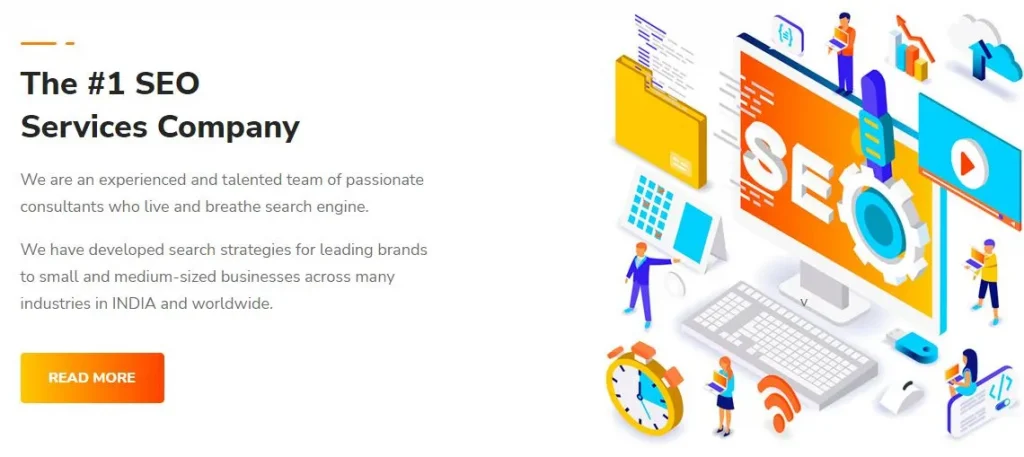 SEO Consultancy
We help you define your SEO objectives & develop a realistic strategy with you.
Content Marketing
Our team of creatives, designers & developers work alongside our SEO & content teams.
Keyword Research
Keyword & market research help guide SEO strategy and allow us to provide realistic projections.

We enjoy adapting our strategies to offer every client the best solutions that are at the forefront of the industry.
Onsite SEO
We analyse your website's structure, internal architecture & other key elements that are weighted.
Penalty Recovery
Our team of SEO consultants has plenty of experience in link audits & reviewing backlink profiles.
Technical SEO Audit
We are well known within the industry for our technical capabilities due to our industry-leading software.
Infographics Content
Our team of creatives, designers & developers work alongside our SEO & content teams to ideate.
Media Promotion
While search engines are still in their infancy in understanding & using social signals algorithmically.
Reporting & Analysis
We love data and provide monthly reporting on visibility, analytics, conversions & revenue.
Technical Optimization: Technical Optimization is the process of completing activities on your site that are designed to improve SEO but are not related to content. It often happens behind the scenes.
On-Page Optimization: On-Page Optimization is the process of ensuring the content on your site is relevant and provides a great user experience. It includes targeting the right keywords within your content and can be done through a content management system. Common examples of content management systems include WordPress, Wix, Drupal, Joomla, Magento, Shopify, and Expression Engine.
Off-Page Optimization: Off-Page Optimization is the process of enhancing your site's search engine rankings through activities outside of the site. This is largely driven by backlinks, which help to build the site's reputation.
Be on the Top & Get More Traffic to Your Website. Why do I need a Directory Listing for my Business? And what are the Benefits of paid Listings?
Directory listings play a vital role in your local SEO strategy. They allow you to achieve better search engine rankings and build trust among your customers. Your presence on these directories will also help you divert targeted traffic to your website.
Compared to free directory listings, paid listings to boost your online presence with extensive site descriptions, better placements, and increased site exposure.
Requirements
We Require
Laptop,
Managers,
Online Knowledg Person
Location
Contact
Address

33/9 Patel House Near Govt, Rest House Pen Raigad 402107
Office Details
One review on "DIGITAL INDIAX MUMBAI"
I was very pleased to find this web-site.I wanted to thanks for your time for this wonderful read!! I definitely enjoying every little bit of it and I have you bookmarked to check out new stuff you blog post.