Description
AARADHYA SOFART PEN RAIGAD
Proprietor Mr. Vishal Patil
Aaradhya Sofart provides Indian & Imported Style Furniture In All of the Raigad Region. Since 2015, We are provide fabricating luxury customized products last 8 years with an in-house furniture workshop, we are at the top of the list of the best furniture stores in Pen, Vashi, Tarankhop & Poynad. Aaradhya Sofart is created with superior quality material and has been tailored categorically to meet the needs of the clients. We have a team of amicable and appreciative staff who can assist our clients in making a residence into their dream home.
In the inclusion of the furnishing, we bestow your bed, sofa, kitchen, and wardrobes in all types of furniture styles. Our experts are armed with the best technology and talent to hand-make your home look elegant.
Aaradhya Sofart is the best place to buy metal as well as wooden furniture in Pen Raigad. Here at Aaradhya Sofaart, we are committed to offering our customers the widest range in home furniture like tables, sofas, and chairs for the living room as well as beds, sofa sets, wardrobes, side tables, dressing tables for bedroom, and crockery cabinets, chest of drawers for kitchen, especially in solid wood and Sheesham furniture designs, so that it is easy and hassle-free to buy furniture.
Our furniture is intelligently designed to give both comfort and functionality; while we also go to great lengths to ensure that we source only the highest quality raw materials and use the latest technologies to manufacture each individual piece.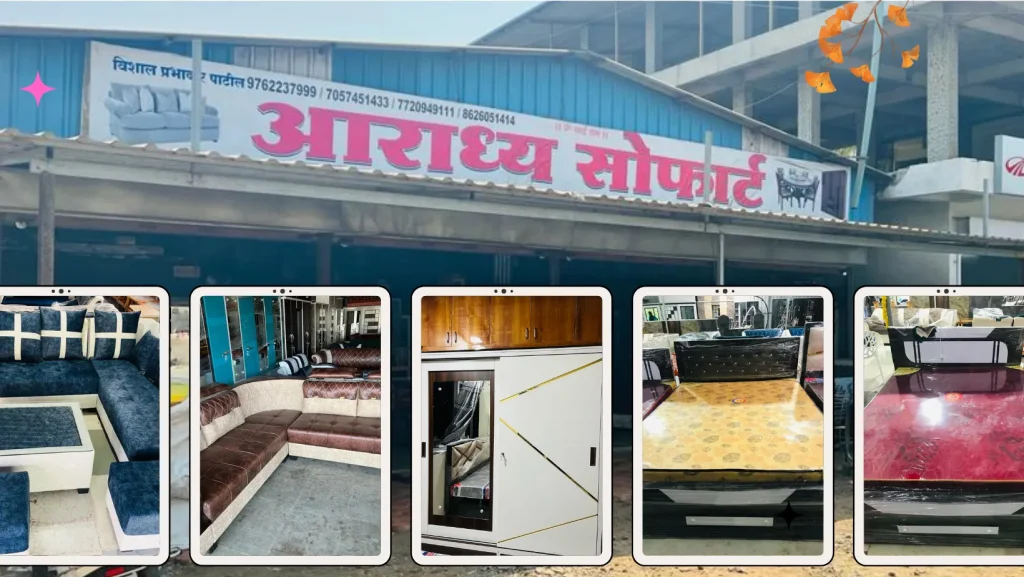 There are so many furniture designs available nowadays. Looking at these, you may end up in confusion about which one to buy. However, you must understand your requirements before purchasing the furniture. Here is a list of common factors that can help you understand your needs better:
Size of the area where the furniture will be placed
Size of the furniture
Purpose of the furniture, whether bed, sofa, or cabinet
Features of the furniture
Its material, design, and color
Your budget
Who said furniture should only fulfill its purpose? You can go a mile extra with your creativity skills by mixing and matching different furniture designs to beautify your home decor. For example, you can set up quirky benches as a seating arrangement instead of sofas in the living area and amp up the liveliness of your home. Similarly, your bedroom furniture design reflects your personality, so it is all in the way you style it, then be it a modular wardrobe or a loft bed with storage and desk functionality.
Wooden Furniture in Solid Wood & Sheesham Designs
Our exhaustive range offers multiple options in solid, mango, teak, rubber, acacia, ply, engineered, and Sheesham wood furniture pieces, while all our wooden furniture can also be customized to suit the individual needs of our customers. We also offer solid wood furniture in beds, dining tables, shoe racks, storage, and reception cabinets at our online marketplace. See various sofa designs side by side, compare prices and finishes, and find exclusive modular furniture pieces that you would not find at local furniture stores.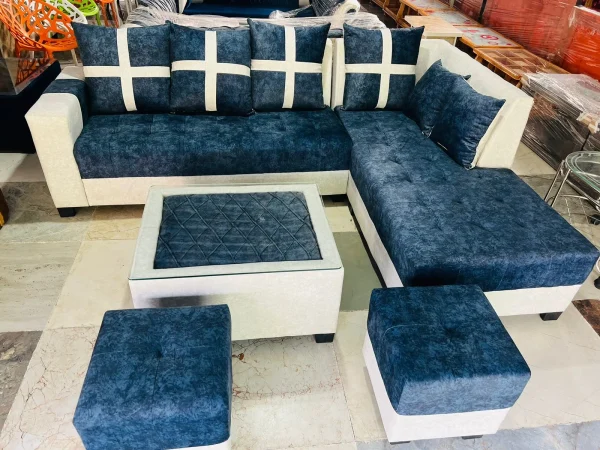 Living Room Furniture Living room consists of your stylish and trending sofas, chairs, and tables. They should be exquisitely designed and comfortable to sit on. These furniture pieces escalate the aesthetic appeal of your home.
Dining Room Furniture Apart from looking good, dining room furniture should also be efficient and robust, these include tables, chairs, and cabinets. Always remember to emphasize quality over quantity when it comes to dining room furniture.
Study Room Furniture A place to study and indulge in your passion for books. The study room consists of shelves, cases, cabinets, and tables. They should be brilliantly designed and efficient to utilize.
Bedroom Furniture A room where you retire for the day should always be cozy and comfy. Bedroom furniture includes bedside tables, mattresses, dressing tables, beds, and wardrobes. It's a combination of storage furniture pieces and bedroom essentials, ensuring you get the best ones.
Kids Room Furniture A kid's room requires colorful, safe, and robust furniture pieces. The kid's room consists of beds, bedside and study tables, cradles, sofas, and bookshelves. Do not compromise on quality while grabbing furniture for your kid's room.
Outdoor Furniture Needless to say these furniture pieces do not have the comfort of being installed inside of your home, so they have to be sturdy and robust to handle the changing weather conditions. Outdoor furniture consists of chairs, swings, loungers, dining sets, and tables. Grab these manufactured by reputed brands.
Digital India-X: Complete Digital Marketing Solutions – Domain + Hosting + Website + Email with Free Website Development, Directory Listing, SEO:  www.digitalindax.com
Startup India-X: Helping Businesses and companies Innovate and transform – Everything Your Business Needs In One Place: Company Registration, Startup Registration, All Annual Compliances Other Licenses and Certifications: www.startupindax.com
EXPLORE YOUR CITY BUSINESS GUIDE– www.citiez.in
EXPLORE YOUR CITY Team Awaits your Business to be given Global Exposure!
Socialize with us. We always love hearing from our clients.
Share stories and exchange ideas on business success. Facebook, Twitter & LinkedIn, etc.
Thank You For Visite Our Page Please Visit Our Nearest Showroom.
Requirements
We Require
Sales Manager,Workers
Location
Contact
Address Shop No. 26, Raigad Bazar Samiti, Pen-Raigad
2nd Branch
Washi Naka, Near Mahindra Showroom, Mumbai-Goa Highway Road, Pen 402107
3rd Branch
Tarankhop, Mumbai-Goa Highway, Sahil Market, Surya Hotel
4th branch
Near Poynad Riksha Stand, Poynad.

Office Details
FAQ
What is the most popular furniture style?

The most popular furniture styles include rustic farmhouse, modern, glam, and traditional. The chances of these furniture styles going out of trend are minimal.

What are the latest trends in furniture?

The latest trends in furniture include , denim, jungle prints and neutral palette upholstered furniture, multi-functional furniture, unique metal furniture, and artisan-inspired furniture.

What wood is best for furniture?

Hardwoods such as maple, oak, teak, mahogany, walnut, ash, acacia are some of the most commonly used wood types that are best for furniture.
2 reviews on "AARADHYA SOFART PEN RAIGAD"
Pros

Simply an amazing place to visualize your home interior Furniture. True to its name. Huge variety of Luxury Design Furniture. A beautiful demonstration of beds, sofas, dining tables, and others. The assortment of furniture is superb. Prices seem a little bit high but they are justified as per the quality and services offered by Aaradhya Start. Friendly and professional staff."

Pros

"I Love the place, customer service, and the furniture designs of Aaradhya Start. This is the Best Furniture store in Raigad Region. People managing the store are very friendly and listen to you patiently about your needs and provide ample designs and choices."